Seminar conducted by Doshu in California, USA
Written on May 23, 2020
Doshu Moriteru Ueshiba is going to conduct the Aikido seminar in California, USA, during 6-8 September 2019. Children ages 8-16 are welcomed and encouraged to attend this event. The IAF Chairman, Kei Izawa, and the IAF General Secretary, Wilko Vriesman, will be present at the seminar the first weekend of September.
The California Aikido Association is hosting the Aikido seminar, conducted by Doshu Moriteru Ueshiba, as well as a banquet. The organizer wishes to encourage children to join this event, inviting Aikidoka that are 8-16 of age to be on the tatami and work as serious Aikido students.
The training schedule is the following:
Friday, September 6
18:00 - 19:00
Saturday, September 7
10:00 - 11:30
14:00 - 15:30
Sunday, September 8
10:00 - 11:30
There will be a warmup session 20 minutes before the first class of each day. No need to bring weapons as there will be no weapons training during classes.
The trainings venue is situated at County Event Center in San Mateo, California, USA.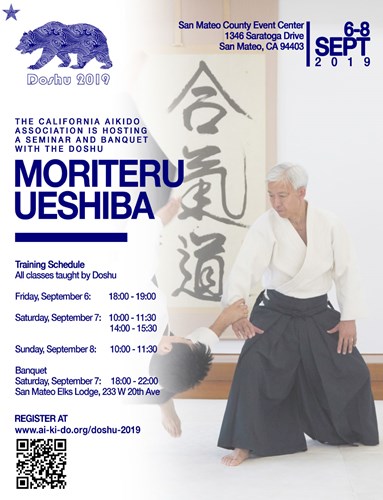 Details related to the adult chaperones, specific venues address, recommendation for accommodation, fees and other info are to be found on the organizer's website: https://ai-ki-do.org/doshu-2019. There is also an email address available for those who need extra info: cal.aikido.seminar@gmail.com